Research Studies » Pediatric COVID Vaccine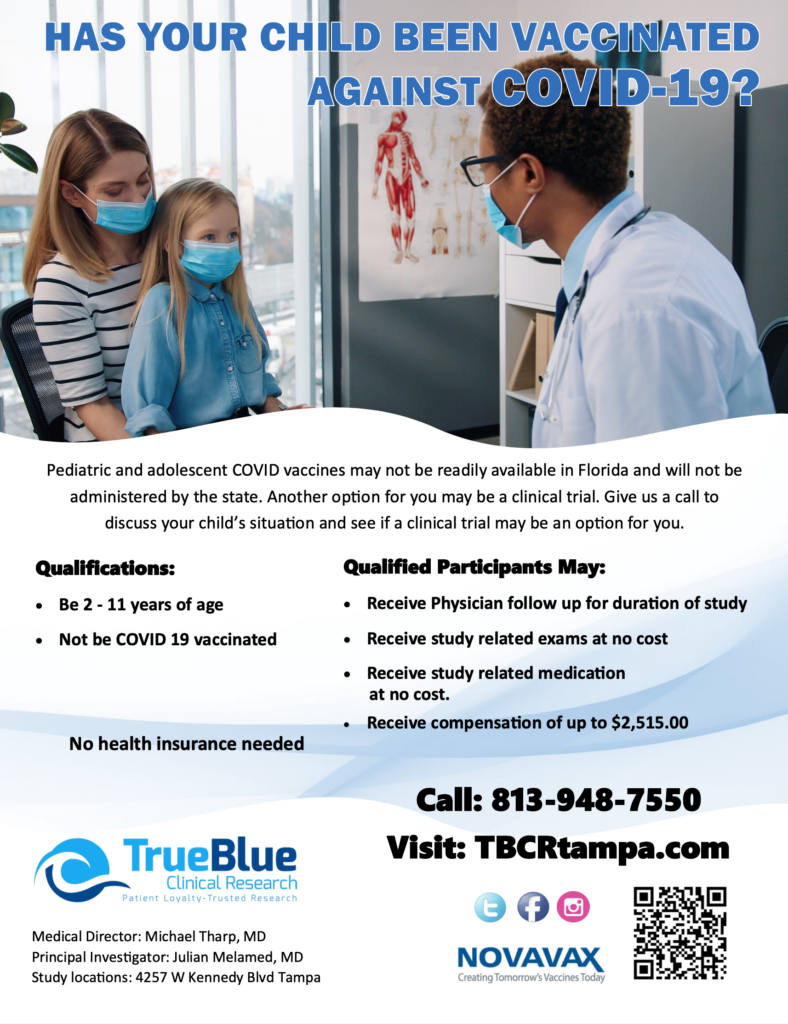 COVID 19 Vaccine Pediatric/Adolescent (South Tampa Clinic)
Pediatric and adolescent COVID vaccines may not be readily available in Florida and will not be administered by the state. Another option for you may be a clinical trial. Give us a call to discuss your child's situation and see if a clinical trial may be an option for you and your child.Qualifications:
Must be 6 months – 11 years of age

Must not be COVID-19 vaccinated

Must not have had positive COVID-19 lab test (home test ok)
Participants may receive:
Physician follow-up for the duration of the study
Study-related exams at no cost
Study-related medication at no cost

. 

Compensation of up to $2,515.00
——————————————————————————————————
COVID pediátrico Es posible que las vacunas de COVID para niños y adolescentes no estén fácilmente disponibles en Florida y no serán administradas por el estado. Otra opción para usted puede ser un ensayo clínico. Llámenos para analizar la situación de su hijo(a) y ver si un ensayo clínico puede ser una opción para usted y su hijo.  
Calificaciones: • Debe tener entre 6 meses y 11 años de edad • No debe estar vacunado contra el COVID-19 • No debe haber tenido una prueba de laboratorio COVID-19 positiva (prueba casera, está bien)  
Los participantes pueden recibir: • Seguimiento médico durante la duración del estudio • Exámenes relacionados con el estudio sin costo • Medicamentos relacionados con el estudio  sin costo alguno.  • Compensación de hasta $2,515.00